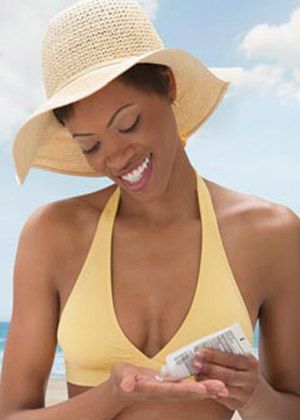 [space] [space]
Every year, as I embark upon the summer season, I search my iPod to find my cherished DJ Jazzy Jeff and the Fresh Prince's hit song, "Summertime." This particular song helps me greet the summer season with a warm, familiar smile brought on by the memories of my young adult life of fun in the sun. [space]
Back then; we frequented back yard barbecues, swimming parties, and every other out door adventure without giving sunscreen a second thought.[space]
But as I fast forward today, I find that our stratospheric ozone layer has become more depleted. Consequently, sunrays that were once thought to be relatively benign, are effortlessly inhabiting the earth and penetrating our delicate skin—making us more vulnerable to premature aging and skin cancer.[space]
Since I'm a true nature lover, living a nocturnal lifestyle isn't an option for me, especially during the summer season. And if you find that you're not willing to give up your strolls on the beach or picnics in the park, then you might find these quick tips about sunrays and sun protector factors (SPF) just as helpful with keeping you safe when you bask in the sun this summer. [space]
Know Your Sunrays[space]
UVA and UVB are the two sunrays that are of most concern (especially during the summer months) to our health because they can reach the earth's surface and cause harm to our skin.[space] UVA Sunrays
UVA rays have a longer wavelength and are responsible for the immediate tanning of our skin. They account for 95 percent of the UV that reaches the earth's surface, and UVA rays were initially thought to be less damaging to the skin than UVB rays. However, recent research continues to suggest otherwise. We now know that UVA can penetrate into the deep layers of the skin and can cause not only ageing and wrinkling—but skin cancer as well. Unfortunately, a traditional sunscreen provides no protection against these harmful rays. Therefore, when you look for a sunscreen, be sure to get one that is a broad-spectrum sunscreen because it protects against both, UVA and UVB sunrays.
UVB Sunrays
On the other hand, UVB rays have a shorter wavelength and peak between the hours of 10:00 AM and 4:00 PM. And while UVB rays don't penetrate beyond the superficial skin layer, scientist have always known that UVB rays cause the most damage to our skin and are more likely to significantly increase our risk of developing skin cancer— Hence, the invention of sunscreens.
Sunscreen: A Historical Trip Down Memory Lane
Because UVB sunrays were known to be harmful, Franz Greiter invented the first sunscreen in 1938 with an SPF of 2, and called it Gletscher Crème. In 1944, a Florida pharmacist by the name of Benjamin Green patented his sunscreen, Red Vet Pet, which was bought by Coppertone and became the first popular sunscreen in America. Later on in 1962, Greiter also invented the SPF measurement guidelines that we currently use today. SPF or sun protector factor measures how well a sunscreen deflects UVB rays, and keeps them from coming into contact with our skin.
Did you know that our Bodies Have a Natural Sun Protector Factor?
Due to the high amount of melanin found in African American skin, we have a natural SPF of 13.4 as compared to Caucasians, who have an SPF of 3.4.
Perhaps, this is why many of us with dark skin feel as if we don't have to worry too much about skin cancer. But we shouldn't be that overly optimistic when it comes to something as serious as skin cancer— We can and we do get skin cancer! So our take away should be that while a natural SPF of 13.4 is a great start, we have to go a step further to ensure our safety as we enjoy our outdoor activities during the summer season.
SPF: What Do the Numbers Mean?
According to the Environmental Working Group (EWG), the SPF number associated with a sunscreen indicates the amount of sun shielding protection that the sunscreen provides. A sunscreen with an SPF of 15 provides a good amount of sun shielding protection in that it shields 93 percent of UVB sunrays. Sunscreens between the ranges of 30 to 100 basically only provide a small amount of extra protection than a sunscreen product with an SPF of 15 as noted in the chart below.[space]
So if you want to be a bit more cautious, applying a sunscreen with an SPF of 30, which will shield about 97 percent of UVB rays; coupled with a natural active ingredient such as zinc oxide or titanium dioxide, which shields UVA sunrays—will provide you with the most optimal sun protective coverage. [space]
With these quick tips, we no longer have an excuse for avoiding the sun! So go ahead and pack that picnic lunch, head to the park, and start making new summer memories with your family and friends.